Every day, the U.S. population is becoming increasingly diverse. In fact, 44% of Millennials, the largest living generation, are considered multicultural.1 The traditions and heritage of multicultural consumers – including U.S. Hispanics, African Americans and Asian Americans – lead this audience to shop differently, particularly online, where fresh food categories don't translate well. With the spike in online grocery and meat shopping due to COVID-19, understanding how to provide products and programs for multicultural shoppers will help retailers secure this audience's long-term confidence and business.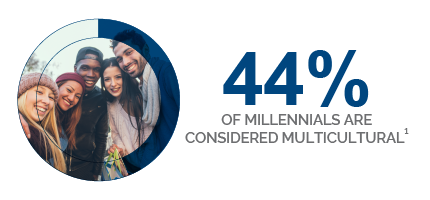 "COVID-19 will be a massive accelerant to e-commerce adoption, and many will not go back to shopping any other way," said John Ross, president and CEO of IGA, in a recent edition of the National Grocers Association's weekly webinar series.
Multicultural consumers were early adopters of online grocery pickup and delivery. In a 2019 ACOSTA survey, 57% of U.S. Hispanics, 44% of Asian Americans and 41% of African Americans said they had bought groceries in the last 30 days. The average for all U.S. shoppers was only 33%.1 But their online orders were supplementing, not replacing, their in-store grocery purchases.
Multicultural shoppers enjoy going to the grocery store more than their Caucasian counterparts.1 This is due in part to the importance of fresh meat and produce to these consumers' cultures. In 2019, Mintel found that 90% of U.S. Hispanics like to select their own fresh food – something they simply can't do when using an online shopping service.2 Similarly, only 38% of African American shoppers said they trust the grocer to pick out their food when ordering online.3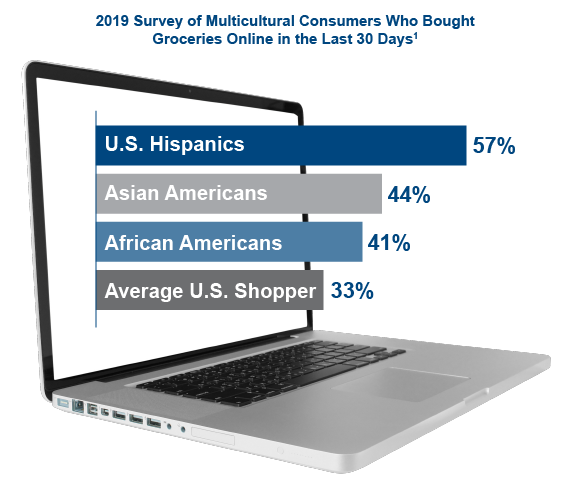 To get multicultural consumers to order fresh foods – including meat – in their online purchase selections, retailers must find ways to make them more comfortable and confident that they will still be able to get the types and quality of products they would have selected themselves in-store. Consider offering a money-back freshness guarantee on fresh meat and produce to help these shoppers feel more confident in purchasing these items online. Or integrate a way for in-app shoppers to approve or reject fresh food selections by sending images as the personal shopper puts the item into their cart. This would allow the customer to remain in control of their selections.
Another opportunity is with branding. Multicultural consumers are passionate about brands and are likely to adopt branded foods that align with their culture and heritage.
1
 Shoppers also believe that branded products are more consistent, so when buying online, branded products take some of the guesswork out of choosing fresh foods.
4
Another common theme among ethnic consumers is taking advantage of deals when shopping for groceries.3 U.S. Hispanics spend more time than the average shopper searching for coupons online and checking prices at multiple stores. Be sure your online grocery platform lets customers see and take advantage of the same deals available in-store.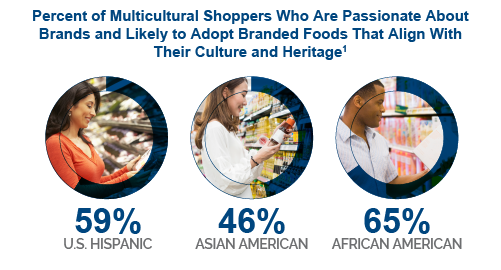 Additional value could be added by integrating a coupon system that allows shoppers to scan and use the same store and manufacturer coupons they would be able to use in-store.
Finally, one of the top cultural touchpoints for multicultural young adults is food. More than 90% of U.S. Hispanic, Asian American and African American young people have learned to cook a dish representative of their family's ethnic background.5
Make it easy for these shoppers to find what they're seeking by ensuring all in-store offerings are also available in-app or online. It also may be time to increase the number of ethnic products and items with bilingual labels and recipe suggestions carried in-store and online.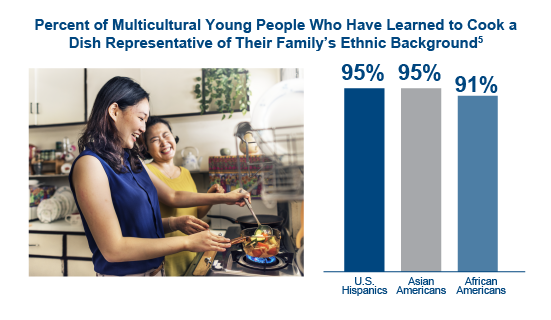 Finding ways to attract and maintain the multicultural shopper, especially in the evolution of online shopping, will provide this audience a better experience and retailers a devoted customer.
1 ACOSTA, The Importance of the Multicultural Consumer. Spring 2019.
2 Mintel, Hispanics and Shopping the Perimeter of the Store. 2019.
3 Mintel, Black Consumers and Shopping for Groceries. January 2020.
4 Power of Meat © 2018
5 Mintel, Lifestyles of Multicultural Young Adults, US. October 2019.
This content originally appeared in The Shelby Report.
Get additional
COVID-19 Insights here